Important Notice About Licensing and Credentialing (PDF, 616KB)  
Application Checklist
Applications for both the University Admissions and Nursing Program Admissions are due February 1 - March 31.
Complete all Nursing prerequisites and Application Requirements (visit the Track II webpage for complete details).
CSU Channel Islands University Admission application: apply online at www.calstate.edu/apply.
"Summer Bridge" ADN to BSN OR RN to BSN Program application.
Two Letters of Recommendation (professional or educational, one from a Nursing professor or your current program).
Resume.
Official transcripts from every college/university attended.
Proof of English Language competency if you attended a foreign college or university.

Detailed professional evaluation for all foreign transcripts is required. You may use World Education Services at www.wes.org or International Education Research Foundation at www.ierf.org for this purpose.
If your country of origin's official language is not English or when language of instruction of previous degree was primarily in a language other than English, a TOEFL score is required.
Application Notes
University Applications
CSUCI University Admissions has separate deadlines from CSUCI Nursing, which all applicants must be aware of and abide by. Please check the University Admissions page for all admissions deadlines, including application, transcript and other document submissions. Please be aware that documents are not shared between University Admissions and the Nursing Program.
Please do not contact the Nursing Program for information this part of the application process. The Nursing Program does not manage the University's application, requirements, or deadlines. Visit CSUCI Admissions for assistance.
NursingCAS Applications
CSUCI Nursing processes applications through NursingCAS, a centralized application service. Visit www.NursingCAS.org to start an application or log into your existing account. Click on the "apply now" button and complete the steps to fill out and submit your application. If you need help with NursingCAS, visit the applicant help center or contact applicant support with questions. Also, visit our application assistance page.
Note: All Track II Applications are covered by one NursingCAS application: ADN/RN to BSN.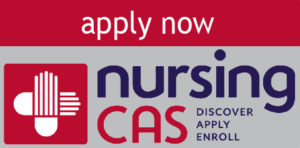 Note: Applicants should not send any documents to CSUCI Nursing during the application period. All application documents are to be uploaded to your electronic application.
Due to the high amount of applications, the we cannot field calls or emails regarding whether or not your application materials have arrived. Please do not contact the Nursing Program for your updates on your application status.