What is The DAISY Award for Extraordinary Nursing Students?
The DAISY Award for Extraordinary Nursing Students™ is designed to remind students, even on the hardest days in nursing school, why they want to be a nurse. By recognizing nursing students for the above-and-beyond care and compassion shown to patients and their families we celebrate what it truly means to be a nurse. We honor the nurse-patient connection that makes all the difference to patients and their families in their healthcare experience and that makes great nurses truly great.
CSU Channel Islands Nursing Program is proud to be a DAISY In Training Award Partner, recognizing one of our Student Nurses with this special honor each year.
Daisy in Training Criteria for the Nomination include, the student will demonstrate two (2) of the following:
Demonstrate extraordinary commitment to compassionate care of patients and families
Connect with patients, families and peers by building trust and respect in ways that make a difference
Display kindness and sensitivity by providing empathetic patient care
Advocate strongly for patients and families
Show outstanding clinical and interpersonal skills
How to Nominate 
Students, Faculty Members, Administrators and others may nominate a deserving CSU Channel Islands nursing student by completing our form:

Student DAISY in Training Award Nomination Form (PDF, 332KB) Printable-version
Nomination Forms for 2019 Awards due by March 29th. 
Submit your Nomination Form to Sarah McCoy by:

Email your form via email: sarah.mccoy@csuci.edu
Submit form in person or by mail to the following address:
CSU Channel Islands-Nursing 
Manzanita Hall 1201
One University Drive 
Camarillo, CA 93012
---
2018 Daisy-in-Training Award Recipient
Hollie-Ann McKiel
 
Hollie-Ann is very passionate about the profession of nursing and has shown kindness and cultural congruence to the Latino and African American populations. She delivers excellent patient centered care and excels in both verbal and written communications.
---
DAISY In Training Winner 2017 
Brenda consistently demonstrates a compassionate connection to patient and families, modeling for peers and facility staff.  Brenda's exceptional interpersonal skills are exemplified by comments from preceptors:  "Brenda…had amazing patient rapport and was one of the most compassionate nurses I've seen, not even limited to just student nurses…wanted to know everything involved with each patient…she will be an incredible RN very soon!". "Very helpful, even with patients that are not assigned to student/RN…kind and attentive to patients, looks them in the eyes and explains what is being done before doing it." She exceeds, above expectations; "will be a great asset to nursing."                                                                                      
For her above and beyond attitude and the sheer delight she gives all of those who have the pleasure of being in her presence, we honor Brenda Valencia with the 2017 DAISY in Training Award.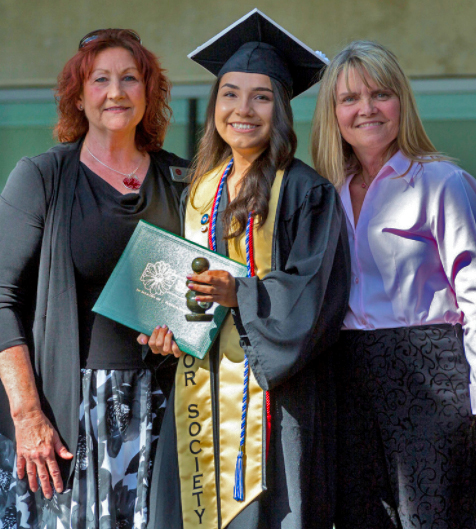 If you have any questions, you may contact:
Geri-Lyn Himebaugh, Academic Program Analyst  
geri-lyn.himebaugh@csuci.edu