On this page:
---
About the Exam
Test of Essential Academic Skills (TEAS) is a mandatory exam for Track I Generic BSN and Cottage Health System BSN Nursing Programs.
For information about the ATI/TEAS examination or to purchase a study guide go to the ATI TEAS website.
CSU Channel Islands ONLY accepts TEAS exam versions 6 and 7.

You will not be considered for the Nursing program without submitting the results of this exam.
We will only accept TEAS scores received by the application deadline for the program to which you are applying.

TEAS results (PDF, 133KB) can be found on your ATI account following the exam.

Applicants must submit their Total Score for Nursing program application.
---
ATI Testing Policy for CSU Channel Islands Nursing Program
ATI/TEAS exam may be taken twice in a calendar year with at least thirty (30) days between test dates.
Please create an ATI Account prior to the test date, and save your username and password for test date.
"Total Score" must be equal to or greater than 58.7% to be considered for admission.
The TEAS does not need to be taken at CSUCI to remain eligible to apply.
All attempts at the TEAS must be provided with your NursingCAS application.
Most recent TEAS results received will be used unless otherwise specified in writing by applicant, or if our TEAS policy has been violated.

If our TEAS policy (bullet one) has been violated, we will only accept the first attempt at the exam.
---
Submitting your TEAS score
Applicants are required to upload ALL attempts at the TEAS to their NursingCAS application.
For a sample TEAS Transcripts, please click on the image below: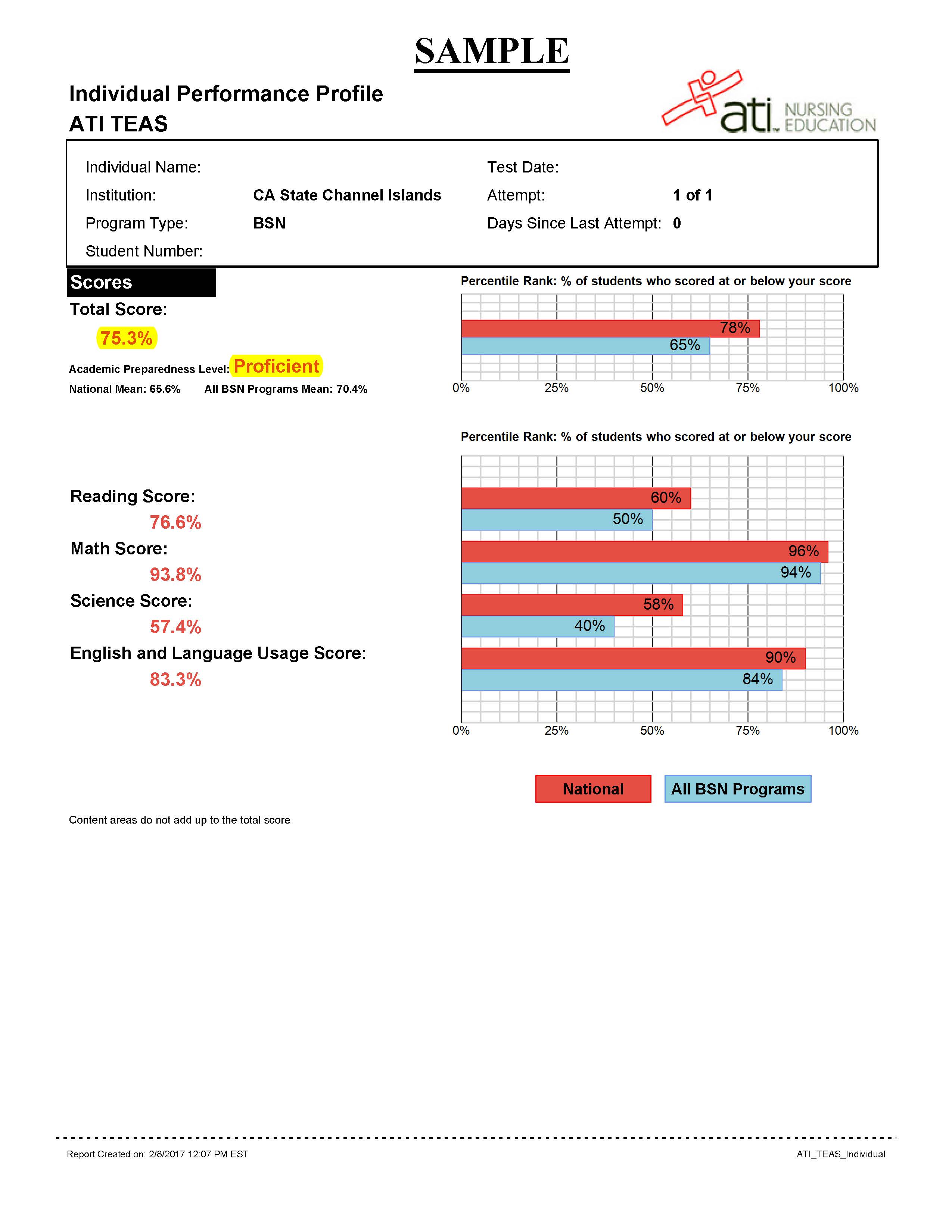 (PDF, 97.6 KB)
---
Taking the TEAS exam at CSU Channel Islands
The CI Nursing program will offer the TEAS exam twice yearly prior to the generic application periods. For all future dates we will be offering the TEAS 7. If you are looking for an alternate test site, contact other campuses with Nursing programs, or look on the ATI website.
Note: Every campus has their own policy, price point, and schedule for proctoring or accepting TEAS.
TEAS Exam Dates
Date
Time
Reserve a seat

Testing dates will be available in Spring 2023.
Please check back to this page in January for upcoming dates.
Please visit ATItesting.com to search for other hosting locations of this exam if you are in need prior to the listed dates.
Create an ATI account prior to the test date, and save your username and password for day of use.

Visit ATI testing for more info on how to create an account.

IMPORTANT NOTE: There is a $65.00 (minimum) fee to take the TEAS (*plus a $5.00 virtual testing fee). These fees are set by ATI. CSUCI does not charge additional fees to take the exam. Have a picture ID and a valid credit card with you on your test date to pay for the exam online. Cash and checks cannot be accepted. Please arrive on time for your TEAS exam. Late arrivals may not have time to complete the exam. We do not provide makeups.
---
Testing Accommodations
If you are a student with a disability in need of testing accommodations for the TEAS exam, please email nursing@csuci.edu and Valeri Cirino-Paez at valeri.cirino-paez@csuci.edu from Disability Accommodations & Support Services (DASS) after reserving a test date to discuss needed accommodations, registration for services, and required verifying documents.
Note: Accommodations must be made a minimum of thirty (30) days prior to test date or assistance may not be available.
For all non-disability related questions and concerns, please contact:
Email: nursing@csuci.edu
Phone: 805-437-1657