What is The DAISY Faculty Award?

The DAISY Foundation, as a part of its service to the nursing profession's role in patient care established The DAISY Award for Extraordinary Nursing Faculty. The purpose of this program is to provide to colleges/schools of nursing a national recognition program they may use to demonstrate appreciation to teachers for their commitment and inspirational influence on their students. The Foundation hopes that, in some way, this program will contribute to a positive work environment for faculty in schools.
These DAISY Faculty Award honorees personify CSU Channel Islands Nursing Program's remarkable impact on students and therefore patients. These faculty members consistently demonstrate excellence through their clinical expertise and extraordinary compassionate care, and they are recognized as outstanding role models in our nursing community.
Faculty DAISY Award Criteria for the Nomination include, the faculty will demonstrate: 
Remarkable impact on students and therefore patients
Consistent excellence through their clinical expertise and extraordinary compassionate care
 Outstanding role model of professional nursing
Exceptional attributes that facilitate learning (e.g., caring, confidence, patience, integrity, and flexibility)
Excellent interpersonal skills
Collaborative working relationship with students and colleagues
Compassion in which they educate students by being interested and respectful of each learner
Enthusiasm for teaching, learning and nursing that inspires and motivates students 
How to Nominate 
Students, Faculty Members, Administrators and others may nominate a deserving CSU Channel Islands nursing faculty member by completing our form:
DAISY Faculty Award Nomination Form (MS Word, 169KB)
DAISY Faculty Award Nomination Form-2016 (PDF, 262KB) Printable-version
Nomination Forms for 2017 Awards due by March 27th. 
Submit your Nomination Form to Sarah McCoy by:
                    CSU Channel Islands-Nursing 
                    Manzanita Hall 1201
                    One University Drive 
                    Camarillo, CA 93012

DAISY Award Winner 2017
This year's DAISY Faculty Award Winner is Dr. Jensen. Because of her dedicated time, generosity, and passion, she has not only enriched the lives of those around her, but she has created a better world by passing her extraordinarily vast knowledge and compassion to multiple generations for them to in turn share with the world. 
"Karen Jensen joined CSUCI from her prior faculty appointments which included Mount St. Mary's College, Los Angeles where she was Assistant Chair of the nursing program and Assistant Vice President and Director of the HOPE Health Options Program of Education and the Dean of the graduate programs. She had been Coordinator of Health Sciences at Moorpark College where her responsibilities included Nursing, Radiological Technology and Emergency Medical Technician –B. While at Moorpark College she initiated the collaborative program with St. John's Regional Medical Center and St. John's Pleasant Valley for the St. John's Partners in Caring Program. This eighteen month program takes employees of the St. John's hospitals and educates them in the Moorpark College Nursing program.
Dr. Jensen was awarded a Ph.D. and M.S.N from UCLA. Her undergraduate BSN is from Marquette University Milwaukee, Wisconsin. Her teaching and research interests include curriculum development, issues in health care delivery systems and gerontology. Her dissertation focused on Stress and Coping of Alzheimer's Caregivers and was awarded a Grant from the National Institute for Health. Her nursing work history includes over twenty year experience in critical care, cardiac care and home health."
For her lifetime dedication to nursing and educating future nurses, we honor Dr. Karen Jensen with the 2017 Daisy Award.
To see the official Daisy Honoree page, please visit here.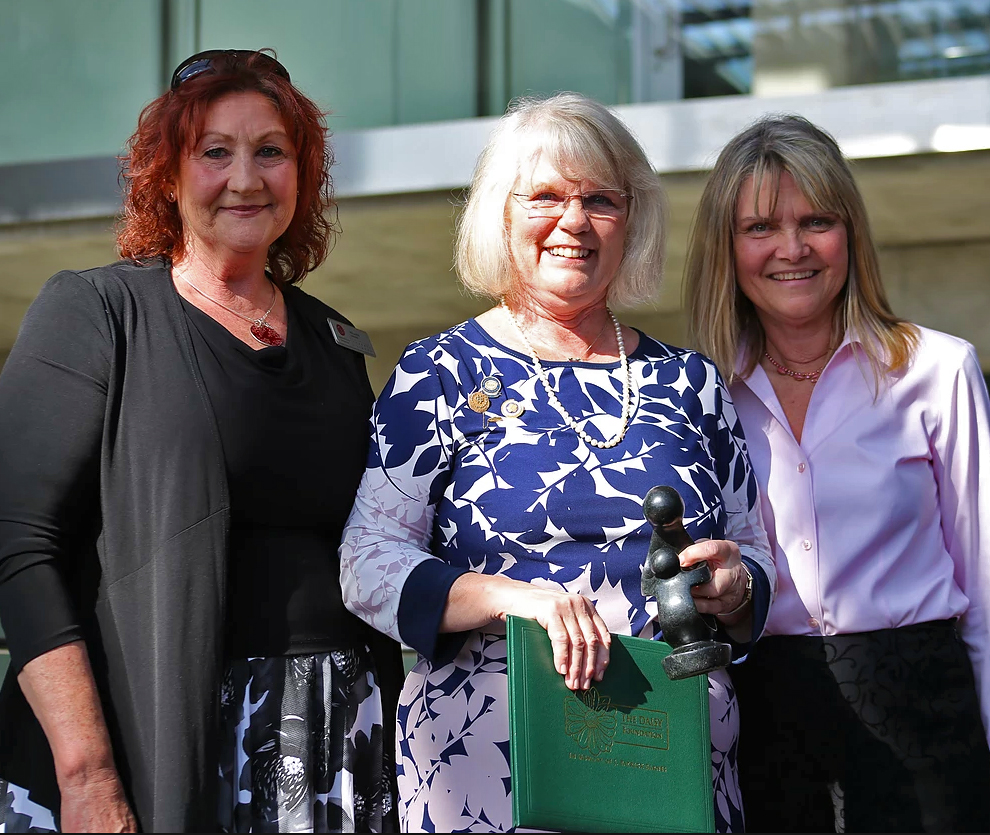 If you have any questions, you may contact:
Geri-Lyn Himebaugh, Academic Program Analyst
Email: geri-lyn.himebaugh@csuci.edu