On this page:
ADN/RN to BSN Programs 
Bridge ADN to BSN and RN to BSN are cohort programs for individuals who are new or soon to graduate ADN students from a local Community College or individuals who hold their RN license and would like to obtain their Bachelor of Science in Nursing degree. Program applicants are required to meet all pre-requisites and be general education (GE) certified.
These programs begin each summer. All options for the ADN/RN to BSN program are run as a cohort model. Classes will be offered in 16 week terms over 12+ months with one month of breaks interspersed during holiday periods. Classes are offered at the CSU Channel Islands Campus through Extended University.
---
If you are currently within your first year of your Associate's Degree in Nursing program, please choose the "Bridge ADN to BSN" program when applying to both the university as well as the nursing program. This option will allow you to attend your ADN and BSN programs concurrently so that the final result will be you obtaining your Bachelor's of Science in Nursing degree.
Bridge ADN to BSN Curriculum Roadmap (PDF, 131 KB) 


If you currently hold your RN license or are within your final semester of your ADN program and preparing to sit for the NCLEX, please select the
"RN to BSN"
program when applying to both the university as well as the nursing program. There is an option to enroll in this program full or part-time, depending on your circumstantial needs.
RN to BSN Full-Time Curriculum Roadmap
(
PDF
, 128 KB)

 
---
Nursing is the art and science of care for individuals, families and communities in a variety of settings. The discipline of nursing integrates the life, social and behavioral sciences with general education, nursing theory and clinical courses to produce a graduate capable of functioning autonomously as a member of a multidisciplinary team, managing and coordinating personnel, services, resources and data in addition to providing patient care.
The CSUCI graduate nurse seeks solutions to societal health needs and problems, understanding demographics and disparities in healthcare, ethical concerns and global perspectives in the practice of professional nursing at the generalist level. The Bachelor of Science in Nursing features community, public health, leadership and management clinical experiences. The curriculum and experiences prepare graduates for evidence-based practice in public health, home health, extended care, case management, occupational health, nursing management, staff development, and nursing education and will provide preparation for graduate nursing education.
The baccalaureate degree in nursing program at CSU Channel Islands  is accredited by the Commission on Collegiate Nursing Education (http://www.ccneaccreditation.org).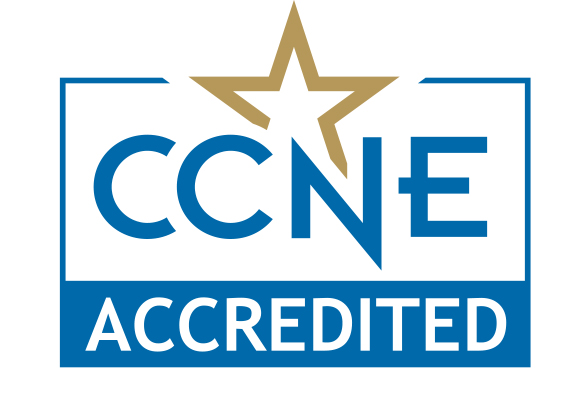 Approved by The California Board of Registered Nursing (BRN)
Accredited by Western Association of Schools and Colleges (WASC)
---
Application Period for both University and Nursing Program Application
University & Nursing Application Dates: February 1-March 31
Prerequisite Courses: 
BIOL 210 Anatomy and Physiology I (4)
BIOL 211 Anatomy and Physiology II (4)
BIOL 217 Medical Microbiology (4)
CHEM 110 Chemistry of Life (4) (Or Organic, Inorganic, or General Chemistry with associated labs)
COMM 101 Public Speaking (3)
ENGL 105 Composition Rhetoric (3)
BIO 203 (Statistics)
Completion of Critical Thinking requirement
Educational Requirements:
Must be currently enrolled in an accredited BRN approved pre-licensure ADN program. 
OR
Hold a current RN license 
Grade Point Average:
An overall GPA of 2.5 or greater in the prerequisite nursing courses with no grade lower than a C is required.
GE Certified
Students are advised to have their general education courses "GE certified" and stamped on their transcripts from the community college.
---
ADN/RN to BSN Track II Information (PDF, 1.1MB)
---
Moorpark College (PDF, 208 KB)  
Santa Barbara City College (PDF, 161 KB)  
Ventura College (PDF, 205 KB)
Pierce College(PDF, 208 KB)
College of the Canyons(PDF, 205 KB)
---
Contact Information:
For questions regarding this Nursing program, please Connect with a Coach.