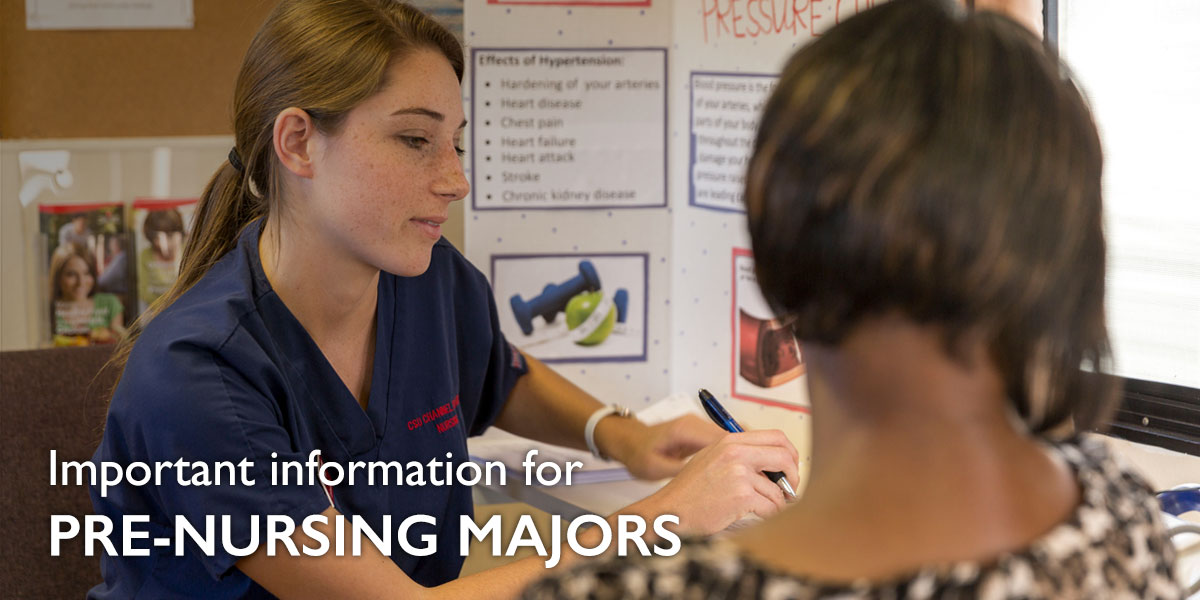 On this page:
---
Program Description
The CSU Channel Islands Bachelor of Science Generic Track I Nursing Program is designed for the entry level pre-licensure student and uses the cohort model of class scheduling requiring full time enrollment. Students move as a group through the designated nursing courses in sequence. Courses are designed so that 200 level courses are prerequisites to 300 level nursing courses and so on. The time to complete the baccalaureate degree in nursing is designed for four years of full time study (one year pre-nursing + three years nursing, after admission to the program. Please visit the bottom of the page for a 4-year Program Curriculum Roadmap.).
Accreditation
The baccalaureate degree in nursing program at CSU Channel Islands  is accredited by the Commission on Collegiate Nursing Education (http://www.ccneaccreditation.org).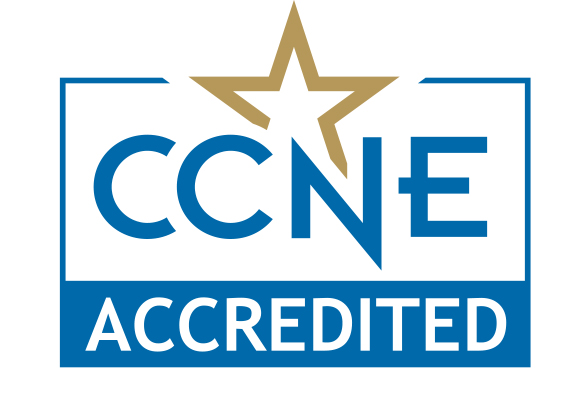 Approved by the California Board of Registered Nursing
Accrediting Commission for Senior Colleges and Universities of the Western Association of Schools and Colleges (WASC)
The Nursing BSN Generic Pre-Licensure program only admits every Fall semester. 
---
Requirements for Admission
Prerequisite Courses
Complete all nursing major prerequisite courses or their equivalents with a grade of C or better:  
*IN ORDER TO BE CONSIDERED FOR ADMISSION FOR FALL 2018, PREREQUISITE COURSES NEED TO BE COMPLETED BY THE END OF SPRING 2018.
BIOL 210 Anatomy and Physiology I (4)
BIOL 211 Anatomy and Physiology II (4)
BIOL 217 Medical Microbiology (4)
CHEM 110 Chemistry of Life (4) 
(OR general or organic, with associated lab) 
Cannot accept any fundamental or introductory level chemistry courses
COMM 101 Public Speaking (3)
ENGL 105 Composition Rhetoric (3)
Bio Statistics B3 (Math Category)
Completion of critical thinking requirement
Course Equivalency Chart (PDF, 43.6KB)
Additional assistance may be found at Assist.org
TEAS Exam
Test of Essential Academic Skills (TEAS) exam version VI (The new ATI TEAS) must be electronically sent to the Nursing Department during the Nursing Program application period (TEAS Exam dates will be offered at CI in January and June).
Supplemental Criteria for Fall 2019
Due to impaction status (granted by the CSU Chancellor's Office) a Supplemental Criteria point system will be used to determine admission. 
Student applicants will be ordered by rank for admission according to the following point structure.
50 possible supplemental points can be earned. Students must still meet the minimum prerequisite course requirements for admission and take TEAS exam to be eligible for admission to the BSN Generic Pre-Licensure program. 
Points will be awarded based on coursework and volunteer/work experience hours completed at the time nursing application is submitted.
For complete details on our Supplemental Criteria point system, please read Supplemental Criteria (PDF, 201 KB)  
---
Application Process for Fall 2019 Admissions
Step 1: Apply to CSU Channel Islands 
Apply to the University: October 1st-November 30th, 2018

University Application: www.calstate.edu/apply
Select "pre-nursing" as a major 
Submit Official Transcripts from all colleges/universities (per deadlines set by the Admissions and Recruitment office) 
Mail or hand deliver transcripts to the following address:
                                                 Enrollment Services
                                                 CSU Channel Islands
                                                 One University Drive
                                                 Camarillo, CA 93012
Step 2: Apply to the Nursing Program (this also applies to continuing CI students)
Please note: completion of all 8 pre-requisites is required. Pre-requisites can be in-progress during Spring semester only.
Apply to the Nursing Program online: December 1st, 2018 - February 28th, 2019
Nursing application: www.nursing.csuci.edu
Submit the following documents to the Nursing Department by February 28th, 2019 (late documents will not be accepted) to the address listed below.

Official Transcripts from all colleges/universities attended (ELECTRONIC COPIES NOT ACCEPTED)

If mailing, please mail to address below
CI Transcripts can be unofficial if CI student

TEAS Exam scores. Submit electronically via www.atitesting.com website. Choose "CA State Channel Islands" when selecting campus.
Supplemental Criteria - submit all documents that apply (see Supplemental Criteria for full details) such as:

Verification of residency
Verification of proficiency of a second language
Verification of baccalaureate or higher degree
Verification of military service
Verification of health care related work or volunteer experience in a medical related field.
Submit all transcripts and nursing documents in one envelope, mail or hand deliver to the following address:

                                                 

Nursing Program - BSN Application


                                                 

CSU Channel Islands


                                                 

Manzanita Hall 1201


                                                 

One University Drive


                                                 

Camarillo, CA 93012

Due to the high amount of submitted applications, the Nursing Program cannot field calls or emails regarding whether or not your application materials have arrived. Please do not contact the Nursing Program for status of admission. 
---
Admitted Nursing Students; Additional Requirements
- Insurance/Health Clearance
Students in the nursing program are required to have health insurance, demonstrate a sufficient immunization record consistent with that required of clinical placement in local health care agencies, and pass a physical examination.
- Background Check/Drug Screening
After admission, students will be required to obtain, at their own cost, a criminal background check and drug screen as required by clinical agencies where students are placed. Students must meet background check standards required by clinical agencies. Failure to meet such standards will result in inability to complete clinical course objectives and thus inability to complete the BSN program.
-Transportation
Students are expected to have reliable transportation for clinical rotations.
---
Examples of Volunteer/Work experience
(refer to Supplemental Criteria for more info)
Acceptable work experience includes employment in fields such as: Licensed Vocational Nurse (LVN), Certified Nursing Assistant (CNA), Respiratory Therapist (RT), Emergency Medical Technician (EMT), Medical Assistant (MA) or a Psychiatric Technician. Other work experience will be evaluated on an individual basis.

Local qualifying volunteer opportunities include but are not limited to: TLC Home Hospice (Loving Heart Hospice Foundation) and COPE Health Solutions Clinical Care Extender Internship (St. Johns Regional Medical Center, St. John's Pleasant Valley Hospital).
COPE Health Solutions Clinical Care Extender Internship:
Prospective Students looking for ways to gain volunteer experience, this could be the program for you! For more information on the internship program, please refer to the following flyer and link:
Flyer: Clinical Care Extender Internship (PDF, 492.6KB)
 Web Link: https://copehealthsolutions.com/careers/for-students/
---
4 year Nursing Program Curriculum Roadmap